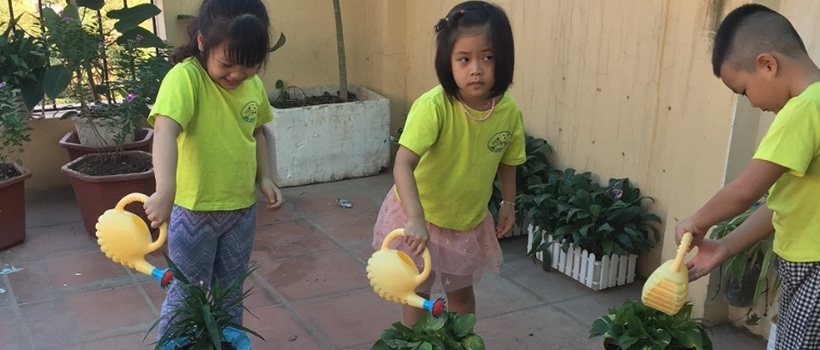 Hello! My name is Theo, I am 23 years old and originally from Normandy. I studied communication at the Infocom department in Roubaix. One of the teachers, Céline MATUSZAK, advised me to contact ADICE to discuss about mobility projects, particularly in relation to sustainable development. Following my Master in communication, I contacted the association ADICE, in particular Léa, and carried out a European Voluntary Service (EVS) together with another Macedonian volunteer. This two-month EVS, as part of the EuroAsia Volunteering Assistance programme in collaboration with YESD partners (Tuyet), took place in Hanoi, the capital of Vietnam. It is within the NGO GreenHub that we carried out this mobility, with a team of about fifteen people, whose objective is to propose sustainable alternatives for the environment. The NGO works in particular to reduce plastic pollution in the oceans (in the Halong Bay for example), find alternatives, materials, sustainable techniques, hold conferences with citizens, schools, businesses and promote biodiversity.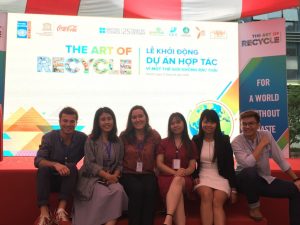 During this project, several missions were entrusted to us by the team, in particular in marketing and communication in order to promote Greenhub's activities and expertise. For my part, I have developed materials, presentations for the environmental service on current projects, on youth engagement and on the 3Rs (Reduce, Reuse and Recycle). I have also proposed and developed approaches and supports in the field of CSR (Corporate Social Responsibility). In addition, I carried out a benchmark and developed a proposal for a communication, marketing and brand plan aimed at developing Greenhub's reputation. In parallel we participated in various activities such as recycling workshops in schools, "ecobricks" workshop sessions with employees. Participation in various events was also very exciting, for example at UNESCO on waste reduction or at conferences on youth engagement in Vietnam, ongoing projects, sharing situations across regions and countries, sharing multiple visions.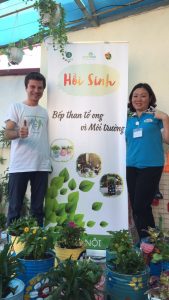 We worked most of the time as a team for the activities, we held meetings while working independently. The Greenhub team welcomed us and accompanied us in a dynamic, simple and motivating atmosphere that encouraged our involvement. On the other hand, we have created real relationships, even today and we have met the families of some of the team members.
I was able to bring help during activities and events, create supports, advise in the field of Communication and Marketing. The whole team was surprised by our work during this project and congratulated us enthusiastically.
The commitment for this type of project came to me through the willingness to act and help people in order to protect the environment, to meet people in a new context and also to progress in English. Discovering, meeting, exchanging in a different way allows you to grasp methods, know-how and behaviours.
The first few days, it was complicated to exchange with people and understanding them, especially with the language (my English level was low). By asking for clarification and by translating, it became easier and it was a good way to progress. A few weeks after my arrival, the team members pointed out my progress in Vietnamese expressions as a bonus.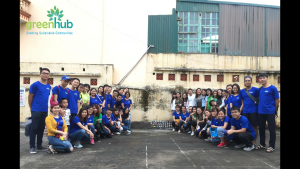 The determination shared by all team members to act for the environment was striking. Acting in a different context is truly exciting and encourages collective action. This EVS allowed me to meet people with expertise in a field, understand different working methods, improve my language skills and get involved in an important process. My willingness to pursue and engage in sustainable approaches has been strengthened, in particular by joining groups of plogging associations ("plogging" consists of picking up waste while running…). I would like to continue both professionally and personally in this logic and to start a new project again. I think that this experience is an impetus for new positive opportunities, so go ahead!
For information, in order to cross the roads in Vietnam, you simply have to walk between cars and scooters, they do not stop but drive around us, quite funny! Also, fruit breaks with the team are very important, remember to bring fruits to the team!
Bewitching landscapes, very welcoming inhabitants, fresh and balanced food are all there!
EVS is a particularly intense adventure that promotes the pooling of everyone's skills and the involvement of individuals in the service of a cause. Contexts vary according to our experiences, but cultural effervescence creates a constructive, sustainable and meaningful dynamic!