"They really picked me! I'm going to Vietnam for two months! That's crazy!" – Those were my first thoughts when I received an email from Mladiinfo ČR one Monday morning. It was there, in black and white, I was selected for volunteering in a prestigious social enterprise called Imagtor which is based in Hanoi, Vietnam. I was thrilled and for a good reason! The whole experience was one big roller coaster.
If you follow Mladiinfo, you may have come across the EuroAsia Assistance Volunteering Programme. Mladiinfo became a partner of this wonderful project through Mladiinfo International, its flagship organization, and Mladiinfo Slovakia, whose team oversees the whole project. Two girls were chosen to volunteer and gain experience in two different fields in two different countries as a part of the project. Sára, the teacher left for Thailand and me, a student of marketing, left for Vietnam.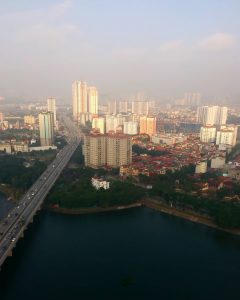 How I got to Vietnam
I've always loved traveling. But I've never been outside of Europe. The girls from Mladiinfo ČR arranged everything for me, and, suddenly, I found myself sitting on a plane to Asia. The whole time before I left, I had heard my friends saying encouraging words of appreciation and envy. But only when I was sitting on that plane and getting ready for take-off, I realized what I was about to do. I was going away! Mom, help!
The flight was long. You can't travel 8,000km just like that. But everything went well, the initial panic disappeared and I was able to relax. However, right after the arrival in Vietnam, I had first troubles. "Where is my suitcase? Please, I cannot find my suitcase!" – "You want to take a look at the other lane, the plane from Saudi Arabia arrived at the same time so it could be there." Luckily, it was. And then, finally, I was heading out of the arrivals hall to go towards my adventure behind the gates of the airport halls.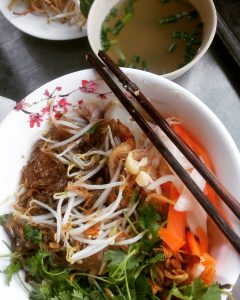 I was told to meet my new colleagues outside of the airport. And they were there. Waiting in the hot and stuffy air to take me to my new home. In a minute, I sweated all the liquids out of my body. "Well, that's definitely something I won't get used to easily," I thought but continued walking towards the smiling faces. One of those faces was my colleague Le who over time became my best friend and soul mate thousands of miles away from home. Her companion was another colleague of mine, the IT specialist Nam.
My colleagues took me to the apartment a little further away from the city centre (well, just about 10km away) in the Linh Đàm district. I was supposed to share this apartment with a couple and their one-year-old daughter. I had my own room there but everything else was shared. The family was very nice, very friendly and I felt like another member of their small family. There was just one thing that caught me by surprise. Of course, I knew Vietnam isn't Europe but I wasn't really prepared for this level of uncleanliness. So it didn't take long and I was moving again, this time to a small apartment with my own bathroom on the 36thfloor. The view of the city was stunning!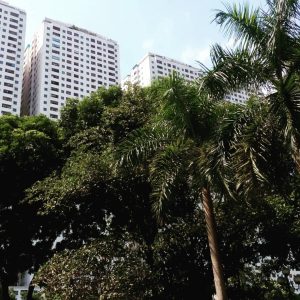 What it is like to work in Vietnam
I became part of the team very quickly. Everybody was nice to me and supported me. We often went for drinks or dinner after work. My task was to help access the European market, set up a corporate identity, create a new website and, to some extent, also a new communication plan. I enjoyed all of these immensely and was on very good terms with my new boss who was also the founder of the company. We shared the same views on how things should be done and soon he gave me a lot of space to be creative.
On the weekends, I had time to travel and get more familiar with the Vietnamese culture. I wondered around Hanoi, visited one of the seven natural wonders of the world Ha Long Bay, went to see Danang, the beautiful lantern city Hoi An, and the tallest statue of Vietnam. At the end of my stay, I decided to go for a holiday on an exotic island of Phu Quoc. There I saw white sand beaches with turquoise water for the first time in my life. I swam with the fish, watched beautiful sunsets by the ocean and snorkeled between colourful corals. I also dared to drive a motorbike for the first time. For those who don't know, a motorbike is one of the main means of transport in the country. But don't be fooled by the ease with which this machine can be used. The speed and density of traffic in cities is not a piece of cake.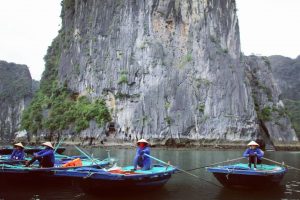 What it is like to come back home
It wasn't easy to get on the plane to go back home. I had gotten used to the local life rhythm, fought off the cultural shock, and found my favourite places and snacks in the last two months. There were still so many things to explore! But the time was up. Sixty-five days had passed quickly and I already sat on a plane landing at the Prague Airport. Don't get me wrong. I was looking forward to my family, boyfriend, dog, and friends. I was even looking forward to school where I had an individual study plan arranged, so I didn't have to interrupt my program. But it didn't take more than two weeks and I wanted to return to the beautiful country of Vietnam.
Volunteering gave me a lot. I saw a lot and I had to go through I lot. I learnt to live in a culture so different from the European one that anybody who wasn't there wouldn't understand. I missed home, I cried, and I was happy. I traveled alone in a foreign country for the first time in my life. I learned new marketing hacks and I hope I was also useful for Imagtor. The whole experience made me stronger, taught me how to be humble and how to listen to others, especially because I didn't understand them. I will never see the Vietnamese the same way I had used before coming to their amazing and friendly country.