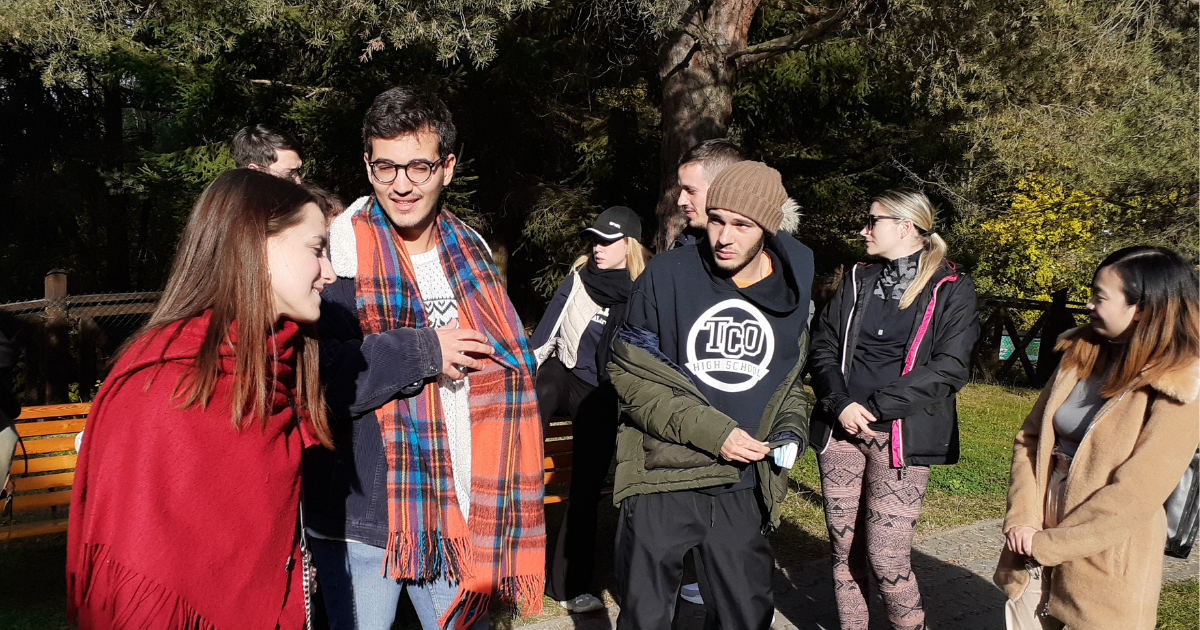 From 18. to 24. October a group of young potential volunteers came to Dolný Kubín, northern Slovakia to explore volunteering and its advantages within Euroasia vol. II project. Participants from France, Italy, Slovakia and Czech Republic enjoyed the week of self-reflection, benefits of volunteering and visiting the local organizations hosting volunteers throughout the whole year. What did they do and how did it go? Check the article below to find out!
A Cultural Youth Exchange in the Slovak Mountains
What brought a group of young people from Slovakia, Czech Republic, Hungary, Italy, France and Spain to the beautiful mountains in the north-western part of Slovakia for a week in October? We had an amazing opportunity to attend a youth exchange to learn about volunteering opportunities in Asia. It was also aimed to prepare us for volunteering mobility within the Euroasia project.
Starting on Monday 18th October 2021 we met in Dolný Kubín ready to explore other cultures, gain an understanding about the roles of a volunteer and volunteering values, self-development and self-tracking techniques, problem solving within our own communities and the application process for the European Solidarity Corps. To get to know each other, our Tuesday started with introductions and games – badge and notebook making. We discussed our expectations from the next days, our fears and possible contributions. Our afternoon continued with team building games to help us get more acquainted, later on we discussed autobiographies.
For Wednesday morning we had calls with hosting organisations and explored all about volunteering basics, then in the afternoon we learned about voluntourism. We all agreed this topic isn't covered enough and it is important to spread awareness about the negative impact of voluntourism. Later on we explored Dolný Kubín with a local tour guide showing us interesting places and telling us about the history of the town. We also visited a local coworking space STREDCO before having some free time in the town to head for the shops or just explore on our own.
After enjoying an intercultural night on Wednesday, we were reflecting on the movie about voluntourism on Thursday morning, having more discussions about the topic. We also debated about our own community's needs and tips for incoming foreign volunteers. We talked about the user manual and self-interest in volunteering before heading for lunch. In the afternoon we enjoyed a visit to the library and meeting the new director who explained to us his perception of the library as a youth center. After the meeting we learned about planning and designing activities, had an example workshop and prepared for group workshops.
Our Friday was all about workshops – starting out with brainstorming how to make a good digital workshop, then continuing with one workshop in the morning and another three workshops in the afternoon. As the week was slowly coming to an end, on Saturday morning we met Ivana Nováková, the regional coordinator of the Slovak Youth Institute IUVENTA, who had a short presentation prepared for us. 
To break up the learning and experience the beauties of Slovakia we enjoyed a visit to Orava castle on Saturday afternoon. Before dinner time we learned how to apply for mobility and the selection process. We've also received information about project REACH that focuses on volunteering in Africa. 
The week has flown by and it was Sunday, our last day. We spent the morning getting tips about our CV, writing a letter to ourselves and reflecting on our week, on what we've learned. We all came full of expectations and had different motivations for attending, whether it was making new friends, improving our English language skills or desires for self-growth. I'm glad to say we all left satisfied with our expectations being fulfilled, if not exceeded. 
We wish to meet again sometime and hope that the friendships made during this week will last a long time. And for anyone considering joining us in the future, don't hesitate and do it. As one of our participants said:
This week of cultural exchange certainly helped us prepare for volunteering in Asia, which was the main intent of it. And who knows, some of us might've gotten inspired by learning about project REACH to volunteer in Africa too.
What did Italian participants had to say about the exchange?
The youth exchange is a different experience for everyone. The Italian team decided to write down their experience and share it. Thank you Vicolocorto team!