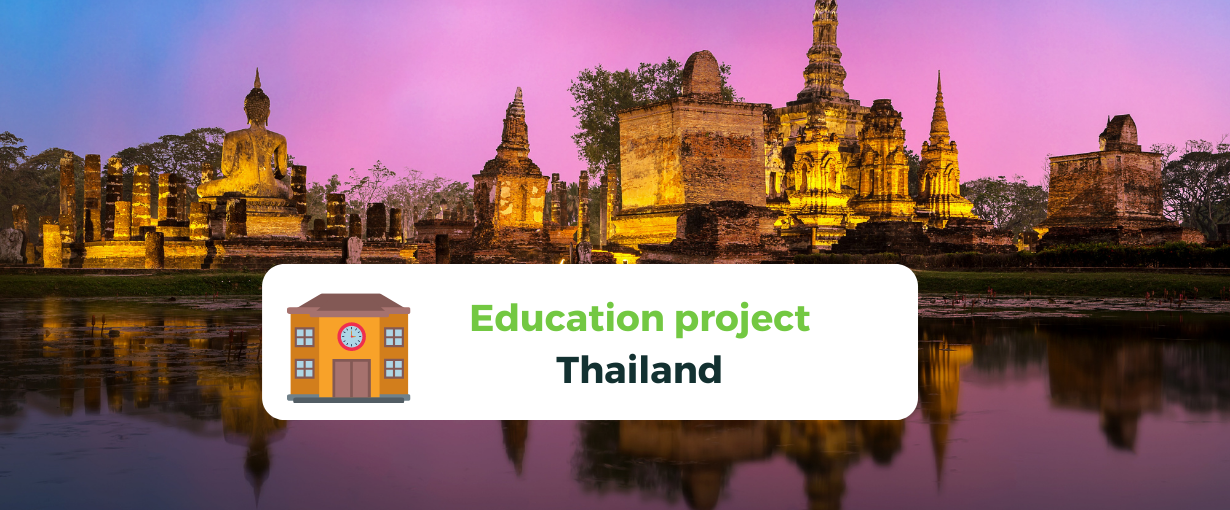 Volunteers will be placed in the same location in Rajaprajanugroh 24 school is located in northern Thailand and connected to Laos border. It is a boarding school where most of the students come from tribe villages.
Main job is to communicate in English with students, encourage them to use English with you. Because in Thailand lonly a few Thai
English teacher can speak English very well. So volunteer will create the situation for student to use English in the class with non-formal education tools such as Song, Game, Creating English Situation in the class (for example market situation to let then learn more word or some conversation that could happen in the market), basic English in daily life, ect.
Volunteer can teach also IT, physical education or art lessons if s/he prefers to, besides the English lessons.
Volunteers can ask for equipment for lesson preparing from teacher in the school. School and kindergarten atmosphere, Thai teacher could not speak English well (as well as children), be prepared on this, you may face difficulty of communication situation but international volunteers will be together. So at least you have friends who can communicate with you. But Thai people really easy going, like to support, help and keen to learn if you are open mind to teach them or communicate with them slowly.
Qualification & prerequisites
Volunteer can communicate in English
 No criminal record proved. Volunteer is required to present Certificate of Good conduct.
Age 22 years old up+ / if you are younger, send your application as well – these will be reviewed on individual basis
Be creative in the class tools
Like to be with small kids
Education Reform is one of exigent project in Thailand. Regarding the gap between city and countryside in Thailand, education decide is one of the problem that need to be solve. The project try to recruit international volunteer to be in the countryside at least to create international atmosphere in community. Encourage everyone to see how important of intercultural knowledge is nowadays.
Volunteers will stay at the school accommodation where food will be provided at school canteen. Internet and wifi is provided as well.
Visa & travel arrangements
Due to the current situation all of volunteers are required to be fully vaccinated with one of European medicine agency recognized vaccine. Information on Covid-19 restrictions can be found here. For the moment a program Test and Go was implemented.
Visa procedure takes usually 1 month. The visa has to be arranged prior to the departure. More information can be found here.
The sending and hosting organisation will give further information to the volunteers. The sending organisations are:
VSA Thailand is an Informal Education Organization / Non-Profit Organization (NPO) / Non-Government Organization (NGO) / Social Enterprise / Peace organization collaborating international voluntary projects for people of all ages, cultures, religious and economic backgrounds.
VSA is IVS representative in Thailand as the bridge to bring people from various cultures or believing to learn cultural diversity, make understanding by supporting activities of local communities around the world. Imagine, the small group of people with different characters gathering in local communities around the world and supporting local activities with villagers. This's the image of idea 'Think Global Act Local'
Learning and understanding in cultural diversity bring the Companion, Reducing Conflict, Individual Capacity Building and Developing Community Potential.
more information: https://www.volunteerspirit.or.th/about-our-organization
VSA Thailand
Phone: +66 92 262 5577, +66 81 959 2961
Email: admin@volunteerspirit.or.th
Address: 1063/379 Soi 11 Palm Spring Airport Village, Kuanlung Hatyai Songkhla 90110
The applications for this position are open. You can apply for this position by contacting the sending organisation according to the country you come from or where your residence is.
Vicolocorto Association
Phone: +0039 0721 6303868
Email: info@vicolocorto.org
Address: Via della Robbia 4, 61121, Pesaro (PU) – Italy
CYA KRIK
Phone: +38978370987
Email: kriksending@gmail.com
Address: st. Karadzica 6
1000 Skopje, Macedonia