YESD (Youth Employment and Society Development) is a foundation and social enterprise for community development, founded by three friends: Tuoi, Trang and Tuyet. Brought together by the common passion to help local communities and to provide authentic responsible tourism experiences in northern Vietnam.
YESD has been carrying out tourism projects in various remote areas in northern Vietnam since 2014, providing communities with education and career development in the tourism industry. YESD assist homestay owners in managing their business, train local guides, provide English classes and organize development projects that benefit the wider community.
"Our dedication to supporting the local community allows us to provide authentic, professional and memorable tours to you!"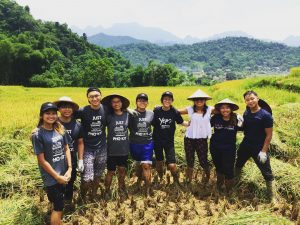 YESD's mission is to increase employment for underprivileged youth in the tourism sector and promote responsible tourism.
How is YESD doing it?
by educating a new generation of tour guides and increasing the skills of indigenous people,
by training the students in many areas, from Vietnamese history to the fundamentals of responsible tourism,
by teaching them the steps needed to protect the environment and preserve their culture and traditions.
by growing in them a passion for passing along their knowledge and cultural sensitivities to international visitors, enriching their experience.
More on the official website.