Vietnamese community volunteers (VCV) is a social enterprise based in Hanoi, Vietnam, focusing on community development, educational improvement, and providing cultural exchanges.
The organisation is especially focused on the following ideas of community work:
specializing in helping Vietnamese students of all ages improve their English language skills,
aiming to provide the students with the opportunity to improve their conversational English and perfect their pronunciation,
improving the student's overall well-being through the classes and activities,
increasing the confidence and creativity of the youth in using the English language and by opening doors for them to find well-paid jobs,
targeting the local communities, specifically the disadvantaged, in an effort to give everyone a chance to learn English.
pairing up the international volunteers and Vietnamese people, helping to broaden the horizons of both parties.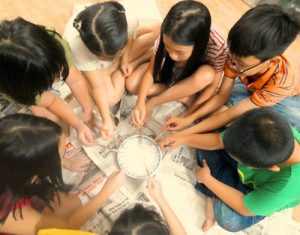 "At many universities in Vietnam, students learn a lot of English grammar but rarely learn to correctly engage in real conversation. Once they graduate, they have difficulty finding employment in the best paying jobs. This is because these jobs often require a high level of English communication skills. We are excited to continue enhancing the lives of both the volunteers and the students who participate!", says Hay Luyen, the founder of Vietnam Community Volunteers.
More information on the official website.