Main activity of ICM Jindřichův Hradec z.s. is a regular year-round activity in the field of work with children and youth whose leisure time is either organised or not , formal and informal education of young and adult citizens of the Czech Republic and EU, information and counselling services for youth and the general public and leisure activities for children and youth.
The accredited Information Center for youth in Jindřichův Hradec provides complex and up-to-date information from various areas of life of young people not only from Jindřichův Hradec and its surroundings but also on the basis of their requirements and needs in a way appropriate to their age and possibilities. The information corresponds with the principles of the European Charter for Youth Information.
The Center for youth (ICM) is workplace accredited by the Ministry of education and is a part of the Czech Youth Information Network, which is comprised of 42 ICM, the National Youth Information Center. On a European level, part of ERYICA, which brings together national information networks in Europe.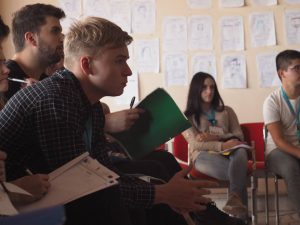 The centre also provides career and counselling services for young people aiming at support of the development of key competencies of young people, creating student contacts with employers in the Czech Republic and abroad, seamless transition of graduates into labour market, individual consultancy in the field of career counselling and organization of development courses, trainings and workshops.
Other activities connected to the work of the centre:
Accreditation of the European Voluntary Service/host, sending, coordinating organization / ERASMUS + programme: participation, preparation and implementation of projects.
Support the participation of youth through various activities that enhance the interest of children and young people in the fields which surround them and encourage children and youth to participate actively in social life.
Activities that fulfil: STRATEGIES OF DIGITAL EDUCATION BY 2020 EDUCATION POLICY STRATEGY 2020 THE CONCEPTS OF YOUTH SUPPORT FOR THE PERIOD 2014 – 2020 EUROPEAN YOUTH STRATEGY
More information on the official website.