Butterfly Tours is a locally-run, Cambodian students' company that seeks to introduce visitors to the rich yet often unseen interiors of Battambang, Siem Reap, and Kampot. The tours are led by local student leaders—a majority of whom come from the countryside themselves—who are keen to share their extensive knowledge about Cambodian communities, its people, and traditions. Visitors taking the tours are guaranteed an experience like no other; besides viewing truly local and stunning sights, the guides simultaneously are supporting an eco-friendly and sustainable effort that directly benefits rural Cambodian communities.
Butterfly Tours goes beyond being an ordinary tour company.
"As advocates of young Cambodian leadership, Butterfly Tours believe in the power of education and the development of entrepreneurship."
The ultimate aim of this social enterprise is to create local, empowered, and independent Cambodian employers and employees who will ultimately contribute to the development of Cambodia's local economy and the environment.
Butterfly Tours' work corresponds to the ongoing challenges of Cambodia's tourism industry. A recent report by The Cambodia Daily in September 2016 noted that while tourism is Cambodia's third largest industry—with the Cambodian government aiming to generate $5 billion in revenues by 2020—profits from the sector have not benefitted a majority of local Cambodians who lack access and connection to the tools of tourism, including education.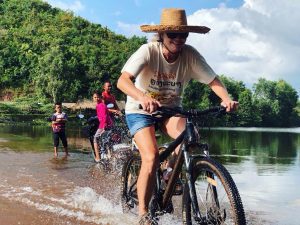 This inaccessibility can be clearly seen within the many Cambodian communities who continue to live below the poverty line. In view of these challenges, Butterfly Tours recruits and works with young students from rural villages, providing training in tour guiding and English speaking skills. While Butterfly Tours' work may be small when compared to the larger context of Cambodia's tourism industry, the efforts are nonetheless significant and crucial in challenging boundaries of local ownership and grassroots-level empowerment.