The Institute for Southern Thai Studies started receiving International volunteers in 2013. There are always local volunteers working in the museum, mostly students from the university and local youth. As well as the museum works with local community closely.
The Institute for Southern Thai Studies is the organization in control of Thaksin University located at Ao Sai Village Moo1 Koh Yo Muang, Songkhla
The Institute for Southern Thai Studies was established on 7 November 1987, providing information about traditional Southern Thailand, which is well known in Thailand and ASEAN. In 2000 the institute was awarded on the attractive cultural and historical sites by Thailand Tourism Award. In 2005 received award the "National Outstanding Unit in Thailand's Dignity Graduation Office " from the Office of National Identity Office of the Permanent Secretary, Office of the Prime Minister. And in 2010 was awarded the outstanding. "Type of Tourism and Recreation for Learning" by the Tourism Authority of Thailand (Thailand Tourism Award 8) organized by Tourism Authority of Thailand. This is one of the pride of the agency that has served as a centre for learning arts and culture in the South. This is a major cultural attraction of the region.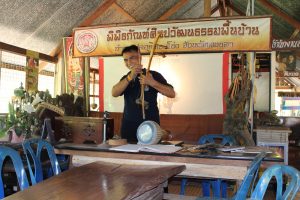 Objectives
To preserve the arts and culture, research service to society.
Vision
The Institute for Southern Thai Studies is the Southern encyclopedia center, researching center for Thai society and providing information for developing country.
Mission
Research on folklore studies and related issues in the Southern region and other related areas doe social development.
Providing, collecting and organizing information systems for the folklore museum database.
Provide Southern folklore information for students and other interested parties.
The Information Center provider for any organization.
Perform other duties related to arts and culture and academic service to the society as assigned by the university.
Create networks and collaborate with other organizations in the related field.
More on the official website.