The Khmer Youth and Social Development Organization (KYSD) is non-profit organization based in Phnom Penh, Cambodia. KYSD is a neutral, non-discriminatory and non-party NGO. KYSD was previously a youth voluntary club that was created in January 2000 by a group of students from many universities in Phnom Penh. KYSD has since become a registered NGO and currently works with young people both in Phnom Penh and rural Cambodia to educate and promote environmental protection and sustainability. Other projects include skill development training, peacebuilding and grassroots advocacy.
Over the past 15 years, KYSD has been working closely with youth and local communities in youth development missions and empowerment of youth and communities at both national and sub-national levels.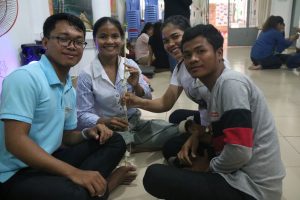 Since 2000, KYSD has focused on mobilizing Cambodian youth to become a force in the protection of natural resources, survival rights, respect for human rights and good local governance in the community. Currently, KYSD is a youth organization playing an important role in Cambodia. KYSD has rolled up and compiled youths both in Phnom Penh and in remote areas of each of the listed provinces, such as Youth Green Club, Youth Club, Youth Network Network and DFGG to participate in Environmental protection and rights.
KYSD has been working with many youth organizations in Cambodia and active members of the Youth Advisory Panel, NGO Forum, NGO Study Group, Facility of the Ministry of Interior (LCFG) and Cambodia Climate Change Network (CCCN).