A4 – Space of Contemporary Culture is an independent cultural centre focused on contemporary art creation in contemporary professional theatre, dance, music, film, visual culture and new media art. It was created in 2004 by combining the efforts of several civic cultural organizations as one of the first cultural centres in Slovakia founded from the bottom. A4 is a lively, inspirational and internationally active node of the Central European cultural scene, a space for a creative experiment and a place for new, unusual experiences for an open viewer. It does not only present contemporary art but also actively supports the creation of new works and education in these areas. In addition to a rich program with a clear artistic vision, A4 is also engaged in a wider public debate on important social issues.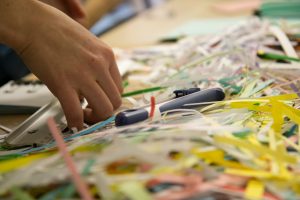 A4 – Space of Contemporary Culture has hosted together 7 volunteers over the last years: 2014 – 2, 2015 – 2, 2016 – 3 and sent out two volunteers.
"The biggest reason why I chose to go for EVS was simply to gain professional experience. That's why I chose A4 – cultural center. When going on EVS you can go to more or less random places and I know some people enjoy this kind of adventures. You can start doing things which you never expected to do and learn new skills."
(Dorota, 27, Poland)
WHATEVS
It's the first event from A4  new event series organized by A4 EVS-volunteers. The goal of this series is to first network foreign EVS-volunteers in Slovakia together with their coordinators and offer them space for regular meetings on monthly basis. They would like to connect these volunteers with young local people, Erasmus students and other people who are interested in volunteering and culture to spread the first-hand information about volunteering among them.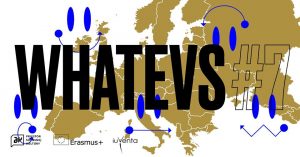 "The best moments always revolve around the people – the ones I met from my seminar and from my job, and the opportunities they have given me throughout this volunteering year. Moments like going climbing in the middle of the Slovak nature or picking mushrooms with the locals. Travelling around this country visiting other volunteers. Being inspired by new forms of art and music."
(Nora, 22, from Spain)